A Glimpse of Madrid
Welcome to Madrid, Spain.
Did you know the official symbol of Madrid is a bear and a strawberry tree?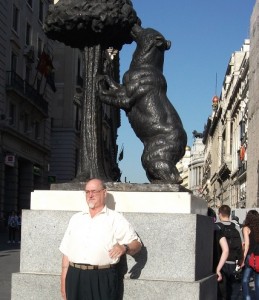 Bear and the Strawberry Tree
(I didn't know the significance of it…but when we saw people lining up to take a photo with this statue we did too! And then did some research to learn about it. I guess there were bears in this area at one time, but any strawberry plants I have seen at home were not trees. Oh well!)
Let's begin our tour of the historical part of Madrid at its centre…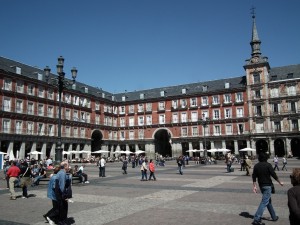 Plaza Mayor.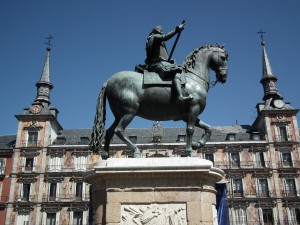 The statue in the middle of the square is of King Felipe III
The plaza was built on the side of a hill so it is interesting to see how they built up one side of the hill, making it possible to visit some of the "cave" restaurants built underneath the outer edge of the plaza.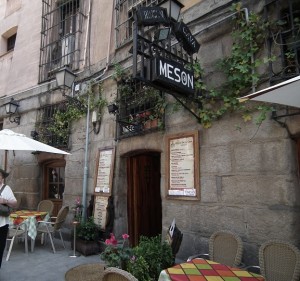 example: When you enter this restaurant you are actually going underneath the plaza.
Not too far from the plaza is this very interesting covered market (Mercado San Miguel) where one can buy some local food to bring to a park and enjoy a casual lunch.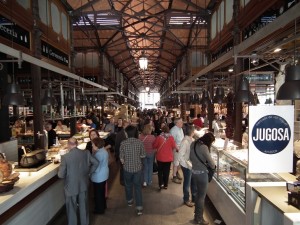 (As a Canadian, this reminded me of Vancouver's Granville Island shops.)
The Royal Palace is not that far so let's stroll over there.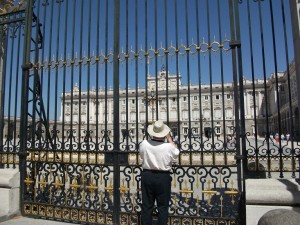 (To go inside the palace gates with us, click here.)
After stopping at our apartment just off Puerto del Sol for a rest from the heat, let's head south towards the museum area. Oh, would you like to see our apartment?  Come on up!
Puerto del Sol is the most central of the plazas in Centro (so I was told!) In times gone by it was one of the city gates and an image of the sun was featured on the gate.
Today a tourist like me might recognize it for its famous Tio Pepe sign.
(Reminder…click on any photo to enlarge it)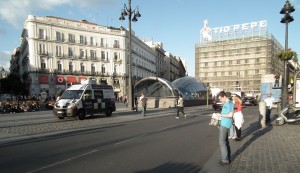 The black and white checkered vehicle is a police van. There always seemed to be a discreet police presence wherever we went in Madrid. We never saw any incidents where they were needed…but then their presence is likely why that is true!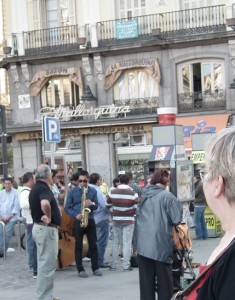 People everywhere as we stroll through plaza after plaza.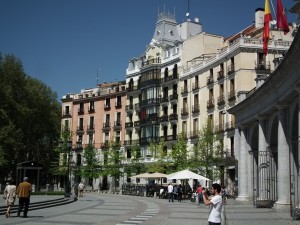 Below is the Reina Sofia Museum
filled with contemporary and modern art.
(Reina means Queen in Spanish)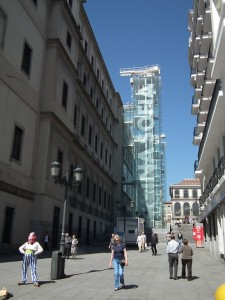 Aside: Join us at two other art museums in this area:  Caixa Forum and of course Prado… click here to visit them.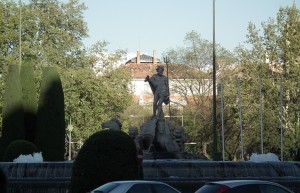 Fountain of Neptune
(his chariot is a conch shell pulled by seahorses)
We are now right by Retiro Park (350 square acres that rival NYC's Central Park..truly). In Spanish "retiro" means "pleasant retreat", a perfect name for this huge area of gardens, fountains, lakes, and pavilions. Hint: plan short visits each day rather than trying to see a whole bunch in one day.
Any guess what this is?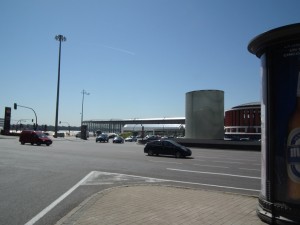 Atocha train station where May 11 is a date etched into the city's collective memory.
A bit farther on (past some very elegant hotels!) we find the government area.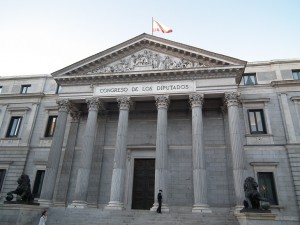 &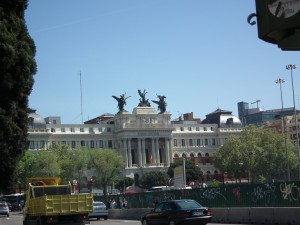 (this is the Dept of Agriculture building, but I was most interested in the magnificent carvings and statues.)
Madrid is filed with wonderful carvings!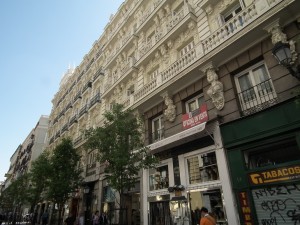 (Did you click on the photo to enjoy the carvings?)
In one plaza near our condo we found (much to my hubby's delight)
this beautiful "creature".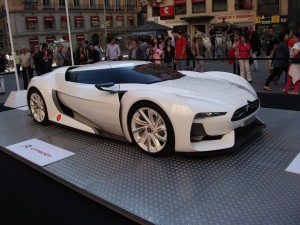 While he admires the car, let's head back to the street (near the park) where thousands of old books are for sale
(reminds me of the book stalls of Paris!)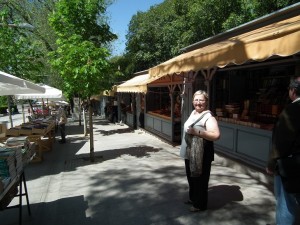 Where to now?
See more of Spain…click here.
and/or
Visit another country…click here.
and/or
Solve a travel quiz…click here.
Happy travels!