Japanese Garden in Montreal
Q: Does one have to go to Japan to visit a Japanese Garden?
A: No (but it would be a great trip wouldn't it!) Canada has several authentic Japanese Gardens. There are the Botanical Gardens in Montreal, Butchart Gardens in Victoria BC, Devonian Gardens near Edmonton Alberta, and the Japanese Gardens in Lethbidge Alberta, to name just a few. All have been designed with the help of master gardeners from Japan.

Right! Today let's explore the Japanese Gardens in Montreal.
The gardens are part of the Botanical Gardens
which are part of the Espace pour la vie
which also includes the Biodome, the Insectarium, and the Planetarium.
(Hint: Click on any photo to enlarge it.)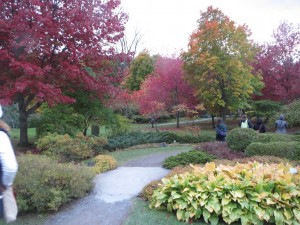 We are visiting in mid October
so the autumn colours are splendid.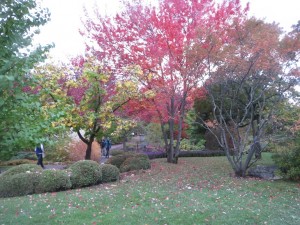 Follow the paths and enjoy the contrasts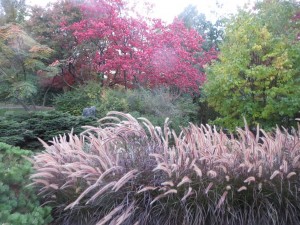 What might be on the other side of this bridge?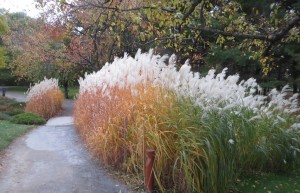 More glorious colour?
and babbling streams?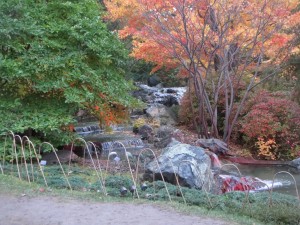 All beautifully designed so that there is always a focal point no matter which way you look, and one scene does not overpower another scene.
Except perhaps when the light from the setting sun
hits the Olympic Tower at just the right angle
to produce this scene stealer!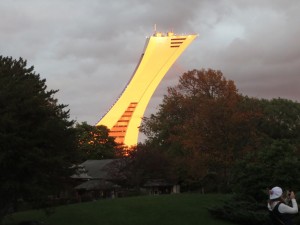 The Botanical Gardens were the highlight of our Montreal trip.
Do plan to include the huge Space for Living area in your plans…
in fact, you could spend a few days here alone!
Where to now?
The Chinese Garden in Montreal…click here.
and/or
more of Canada…click here.
and/or
other countries…click here.
or
Solve a travel quiz…click here.
Happy travels!