Boulders Penguin Colony
Hmm…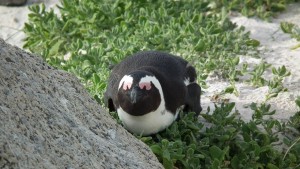 What is this?
(Hint: Click on the photo to enlarge it.)
Yes, it is a penguin.
Maybe the next photo is closer to what many of us imagine when visualizing penguins.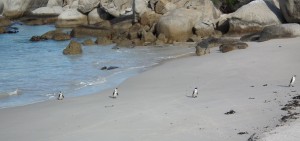 (Remember…click!)
Cute, aren't they.
Here we are on the southern cape of South Africa
…in Boulders (next to Simon's Town)
to get a close up experience with real live penguins.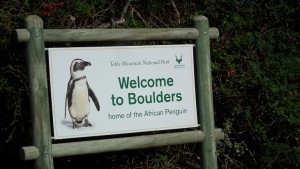 Did you know there are several kinds of penguins?
An excellent information centre at the beginning of the wooden boardwalk educates me about penguins.
There are Rockhopper Penguins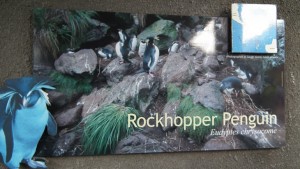 but we will not see any of those today.
There are Chinstrap Penguins…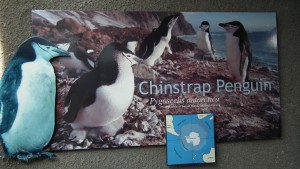 I see how they got their name!
But none of those here at Boulders.
There are Emperor Penguins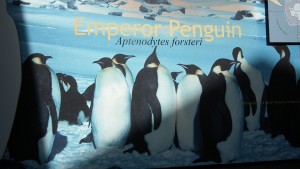 Now this is how I have always pictured penguins…
but none here at Boulders.
There are African Penguins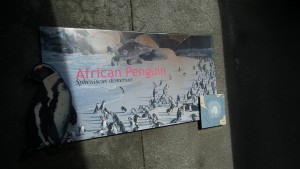 which we will see today!
Let's join the many, many other tourists on the board walk and visit some penguins.
Since the wooden boardwalk is above the sand we get a top down look at some of the penguins walking around the beach.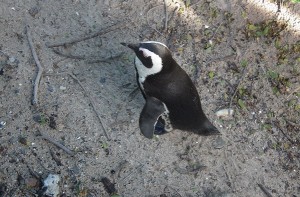 There is a mama and her baby nestled in the sand…did you know they dig nests right into the sand? I didn't.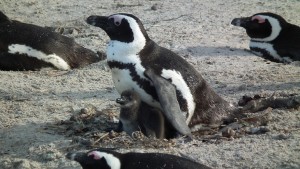 Cute isn't he? she?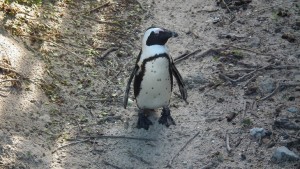 (The information centre tells us it is very difficult to distinguish male/female penguins unless they are side by side. The male's beak in larger.)
Ahh,  they are out for a stroll.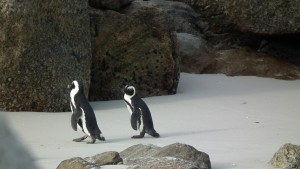 They have a lovely beach here at Boulders…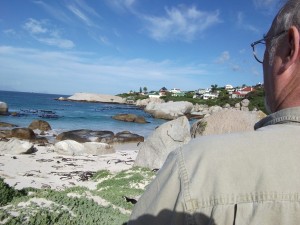 and the community?/country? seems to be making an effort to keep it safe for the penguins. However I have read several articles saying that the colony is in danger of extinction.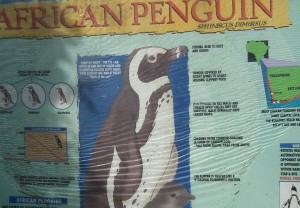 Visit more of South Africa with us, click here.
and/or
Visit other countries, click here.
Happy travels!