Marquis of Pombal Square, Lisbon
Lisbon, Portugal
Today we are walking along a lovely grand boulevard (reminiscent of the Champs d'Elysee) in central Lisbon. It's named Avenida da Liberdade…which certainly must have historical significance that I must research as soon as the opportunity arises.
In the meantime we are just enjoying the wide boulevard with its lovely Portuguese Pavement designs.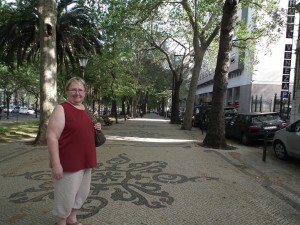 It must take forever to create these designs using tiny tiles! But then Portugal is know for its tile art work isn't it.
(Hint: Click on the photo for a closer view of those tiles.)
Crossing over to the centre green space, we are enchanted by fountains and a variety of  trees and shrubs.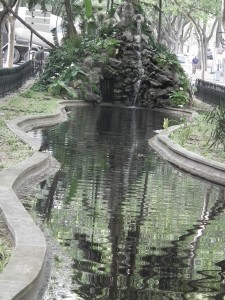 Aside: in some places there are up to five lanes of traffic in each direction (and there is a lot of traffic!), so that central boulevard is very pedestrian friendly!
Eventually we come to a very large traffic circle (roundabout) where three major street systems converge.
Aside: This is the same traffic circle we tried to avoid yesterday when we drove into Lisbon but somehow managed to enter right here, along with a million other cars …but thanks to my hubby's excellent driving skills we survived it (despite my panic and loss of brain cells to let him know which exit to take! A GPS system would have been a god-send at that point!)
But I digress…this is the Marquis of Pombal Square.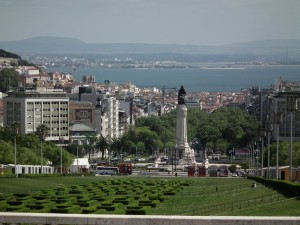 Yes, I know it is a traffic circle, but it named "Square".
The photo above shows us looking down at the square across the Eduardo VII Park. It's landscaping is unique and lovely, isn't it. The water in the background is the Rio Tejo. The statue in the centre is of the Marquis of Pombal.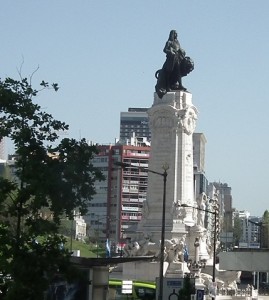 I certainly am learning a lot of Portuguese history on this trip! (Still do not know a lot but before visiting I knew next to nothing about Potuguese history!)
The Marquis of Pombal was the country's prime minister in the mid 1700's and played a major role in rebuilding Lisbon after the earthquake and tsunami of 1755. (I am ashamed to admit I did not even know that Lisbon had a devastating earthquake that destroyed the low laying  Baixa district.) The Marquis used his excellent pragmatic organizational skills to rebuild Lisbon's downtown.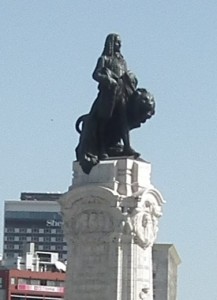 The tall monument in the centre of the Square (roundabout) is topped by a statue of the Marquis accompanied by a lion (the symbol of power). They are both looking toward the Baixa district.
Aside: I encourage all to do more research regarding the Marquis. As with all history there are various points of view so take some time and explore his interesting/tragic life story.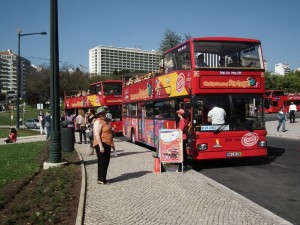 Our goal this morning was to reach the Marquis of Pombal Square as it is the starting point of the hop-on hop-off tourist buses. There they are!
Join us on a tour of Lisbon…click here.

Visit more of Portugal…click here.
and/or
Visit other countries…click here.
Happy travels!