Travel Quiz 27
Welcome back fellow travelers.
Ready to try the next quiz?
Study the photo.
Do you recognize where it was taken?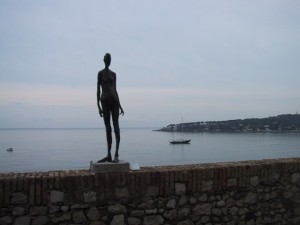 Hint: Click on the photo to enlarge it.
Yes? No?
Perhaps these clues will be helpful.
Clue 1:  That is the Mediterranean you are looking out onto.
Clue 2: The stone wall is part of the Chateau Grimaldi.
Clue 3: A very famous artist lived here in-residence for a time and donated his work to this museum.
Ready to check your answer?
Click here to see if you are correct.