Places of worship part 3
Still on the journey with us?
Excellent!
Let's continue…

St.  Stephen's Cathedral
Vienna, Austria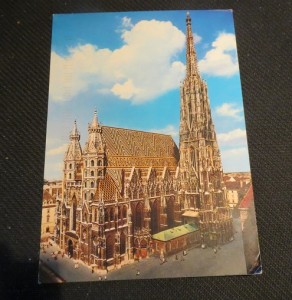 Full confession…this is a photo of a postcard we sent to ourselves from Vienna. I rarely do this (post photos of postcards…but we always send postcards to ourselves as souvenirs). Getting a good photo of this unique roof was next to impossible, even from Kartner Strasse, a long pedestrian street leading away from the cathedral.
Bath Abbey
Bath, England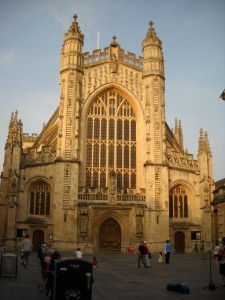 Officially The Abbey Church of Saint Peter and Saint Paul, Bath Abbey was bathed in evening sunlight when I took this photo. We were waiting to attend a walking tour and had some time to kill so wandered inside…it is beautiful!
Hint: Click on any photo to enlarge it.
St. Anne's Parish
Dublin, Ireland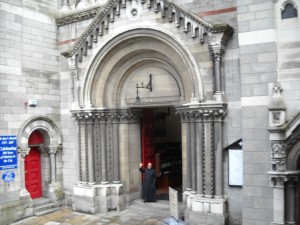 We were on a hop on hop off bus tour of Dublin, passing St. Anne's, when the priest appeared in the  doorway to wave at the bus. Loved it!
Saint David's Cathedral
(Eglwys Gadeiriol Tyddewi)
Saint Davids, Wales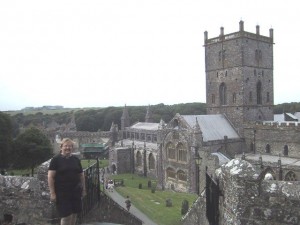 Did you recognize the Welsh name? Most places in Wales have the Welsh name first, then the English translation. We are here in the small community of St. David on the south-west coast of Wales (actually the most westerly point in Wales!) visiting the patron saint of Ireland. Bet you thought it was St. Patrick…but no, it is Saint David. 
San Sebastian del Oeste
Mexico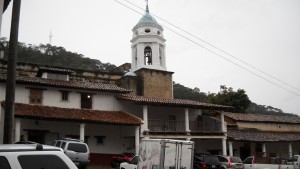 In the Sierra Madre mountains east of Puerto Vallarta, we visited the village of San Sebastian. The church spire (seen above from a back street) looked interesting so we wandered over there, and were rewarded with…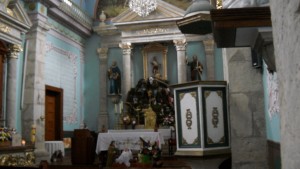 the colour of the interior is so unique and calming.
So, where to now?
More places of worship…click here.
and/or
Visit other countries, click here.
and/or
Solve a travel quiz, click here.

Happy travels!