Alberta Birds of Prey
Would you like to get up close and personal with birds of prey?
Even get a photo taken with one of them?
This young fellow is about to hold and get his photo taken with a great horned owl.
(Hint: Click on any photo to enlarge it.)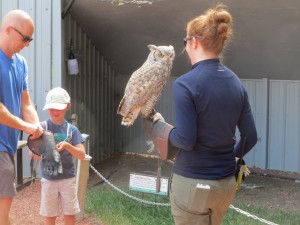 You would like an experience like that?
Well, then, join us at Alberta Birds of Prey Foundation in Coaldale, Alberta.
Coaldale is a town about ten minutes east of Lethbridge in southern Alberta (Canada). Since 1983 the Birds of Prey Centre has been in operation, caring for and releasing countless injured/rescued birds of prey.
Today it is also a popular destination for families, school groups, and well…anyone who loves birds and/or would like to learn more about birds.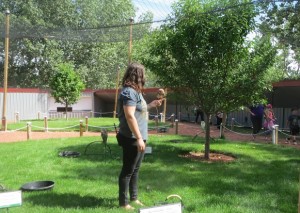 Here we are learning about burrowing owls and the breeding program that is taking place at the centre in hopes of ensuring the survival of this small owl.
This beautiful owl has markings on its feathers that help camouflage it.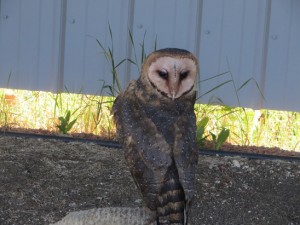 Would be difficult to spot it against the bark of a tree…but that is the point isn't it.
Aside: Do you know why an owl can turn its head around like that? Visit the centre and find out!
Let's meet some of the permanent residents.
This is Lincoln, a bald eagle.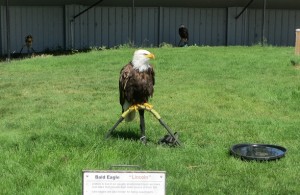 and here is Snoopy, a turkey vulture.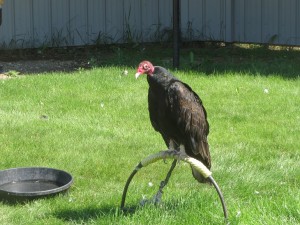 (we learned why the vulture has no feathers on its head.
Visit the centre and you can learn why as well.)
This hawk is Sarah (I think that is her name!)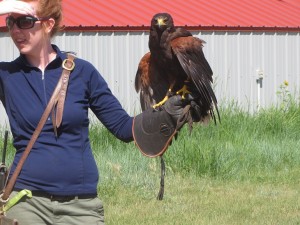 Most days there is a flying demonstration. Today Sarah and her handler are doing the demonstration.
There are large aviaries for hawks, owls, falcons, eagles…any bird of prey that is rescued and brought into the centre. Many can be treated and released. Some are so young that they become imprinted to humans and become permanent residents.
A favourite with all members of the family is …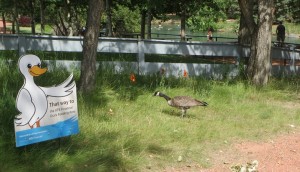 (even geese are welcome there!)
the duck feeding area.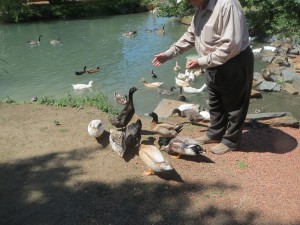 I did not realize how many kinds of ducks there are!
My favourite… the crested duck with its powder-puff hat.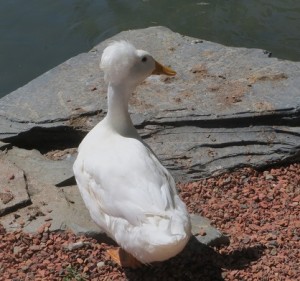 The Birds of Prey Foundation does not receive any government operating subsidies so it relies on its corporate sponsors and private donors.  By visiting the centre you are supporting the wonderful work they do. When there you can sponsor a bird (we are now the proud sponsors of an American Kestral!)
Visit www.burrowingowl.com for details
Do come and visit us!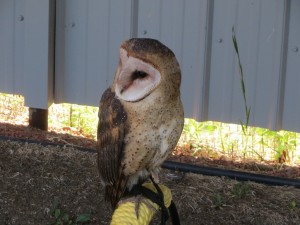 Visit more of Canada, click here
and/or
Visit other parts of the world, click here.

Happy travels!