Panorama Route South Africa
What a beautiful day here in Hazeyview, South Africa (near Krueger Park). Let's take the opportunity to drive the Panorama Route which will take us into the Drakensberg Mountains.
First decision…which way do we go!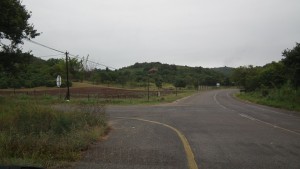 Aside: That is not just a rhetorical question. Good maps are not that easy to come by here, so if you find one hang on to it!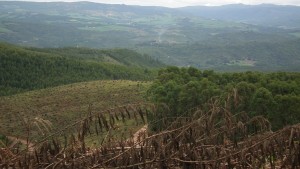 We are on the correct road, yeah! Climbing up, up ,up.
Hint: Click on any photo to enlarge it.
Many lovely views similar to the one above can be enjoyed as the road does not follow the valley, but is built at a higher altitude…so you get a panoramic view. However, I do not believe this is officially part of the Panorama Route yet.
Notes I make along the way include: banana plantation, logging trucks, man made forests, signs for private schools, crews using machetes and scythes cutting grass along the roadside,  police car…be warned that not all police officers in South Africa are honest police officers (enough said, even though I would like to say a LOT more about that!).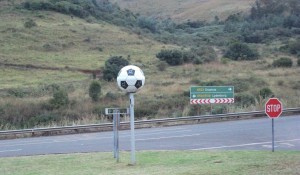 Every once in a while we see these roadside soccer ball "statues" and had believed them to be signals that a FIFA World Cup soccer event had been held there many years ago. In Nelspriut, yes…but way out here? Hmm…will have to research this more!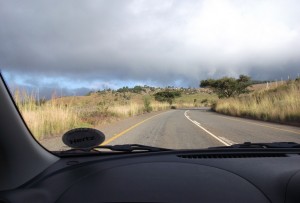 As we climb even higher the clouds seem to be closing in…so much so that when we reach God's Window it is so foggy that the site is closed. My husband jokes that the window is there but the shades are drawn.
Wonder View is closed as well!
Oh well, we can still visit some falls! Here are the Berlin Falls…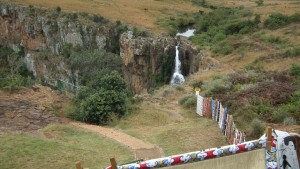 You can see more photos of the falls in the posting Waterfalls.
(Remember you can click on any photo to enlarge it.)
Berlin Falls were not named after the German city, but after the farm family that lived near here. (I wonder if that is true for the Lisbon Falls down the road as well.) 
There is a R10 admission fee (but we are issued a  receipt so I assume this is legit). A pleasant surprise was the little market in the parking lot.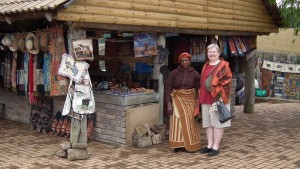 It seems to be clearing a bit!
…but that is off in the distance.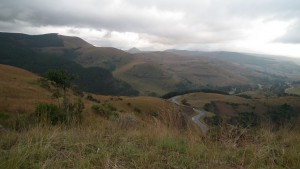 God's Window and Wonder View are still closed,
however…
farther on we find a pullout and enjoy some views that I suspect are just as lovely as the ones from the higher elevations.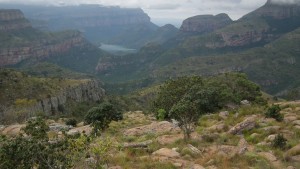 (do enlarge the photos!)
Looking down into the Blyde River Canyon.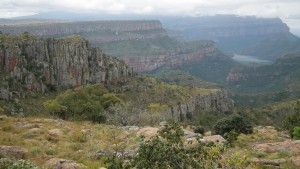 (are these escarpments? I keep reading about being on the Drakensberg Escarpment.)
And my favourite photo…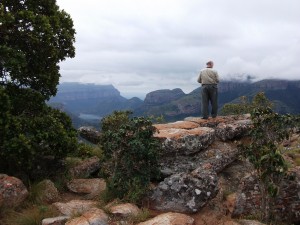 I believe those are some of the Rondavels in the distance.
(rondavels are the beehive shaped traditional huts found in South Africa. These mountain tops are shaped like rondavels.)
Onward… to the Bourke Luck Potholes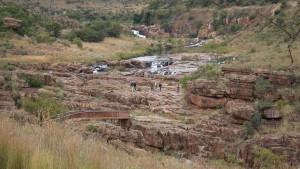 Click here to join us at the Bourke Luck Potholes.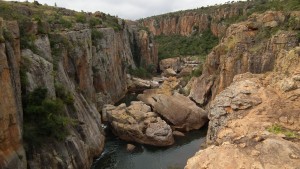 (Some scenes along the way)
Then we are heading down, down , down
and into the valley seen below in the distance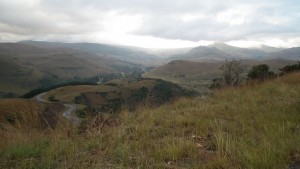 My journal about the trip through the valley includes the following notes (but I was either too impressed/or not impressed enough / or too tired to take photos!)
-down,down,down!
-farmland, orchards (oranges?), farm laborers picking veggies, vegetable stands, ladies carrying boxes on their head, aloe nursery, RR tracks,game farm, Robber's Pass, Trout Hideaway…
and then down again…down a very steep and very twisty road into gold rush country.
We end up at Pilgrim's Rest just as the stores are closing.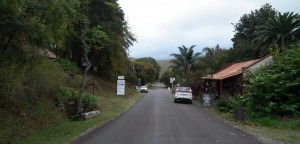 This historical town from the 1837 gold rush days looks rather interesting and deserves more time than we can spend today!

See more of South Africa, click here.
and/or
Visit other countries, click here.
and/or
Solve some travel quizzes, click here.
Happy travels!