Five Waterfalls
Are there waterfalls in every country?
Hmm…interesting question.
I had never really thought about that before!

Well, let's see how many of the countries we have visited had waterfalls. 
Hint: Click on any photo to enlarge it. It really makes a difference!
Sunwapta Falls
Canada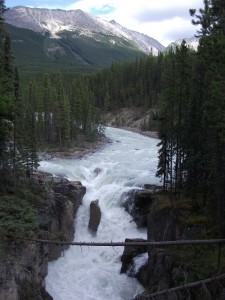 Jasper National Park (in western Canada) is the home of Sunwapta Falls. Those are the Rocky Mountains in the background.
Gullfoss Falls 
Iceland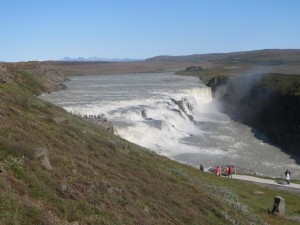 Our Golden Circle bus tour in Iceland stopped here. Check out my posting about that tour to learn more about the falls. Click here. 
Lealt Falls
Isle of Skye, Scotland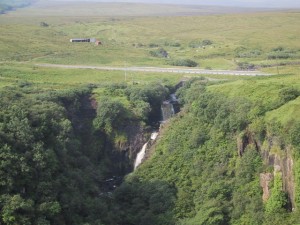 We almost missed Lealt Falls! From the road it is invisible. Not until we stopped at a pullout (in what seemed to be the middle of nowhere) and followed a walking path that said "falls" were we able to look back and see them…right beside the road.
Falls in Malinghe Canyon
Xing Yi, China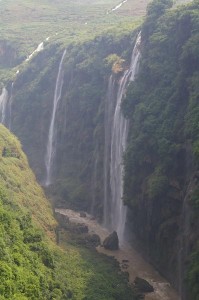 These falls also "sneak up" on one.  A friend took this photo in the same area of China as the "ten thousand hills" …south western China.
Geiranger Fjord
Norway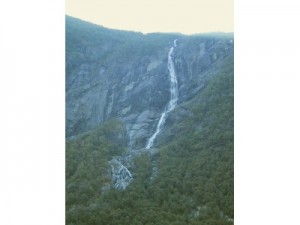 We boarded the first cruise of the day to spend a couple of hours sailing in the Geiranger Fjord. Wow, what an experience! There are numerous falls similar to this one cascading down from towering heights into the fjord.
Click here to spend the day with us on the fjord and in Geiranger.

So that is five countries…Canada, Scotland, China, Iceland, and Norway.
Continue our quest for waterfalls, click here.
and/or
Begin a different quest, click here.
and/or
Visit countries around the world, click here.
Happy travels!